2015 Ohio Ahead Conference Information
OH-AHEAD Fall Conference
October 23, 2015
Wright State University
Dayton, Ohio
Join with the Ohio Association of Higher Education and Disability during our annual Fall conference to celebrate and learn. Save October 23, 2015 to network with your disability services colleagues from throughout the state of Ohio to discuss emerging issues and best practices in providing access for students with disabilities in post-secondary education.
Tentative Agenda
8:30-9:30    Registration/Check-In/Vendor Exhibits/Coffee and Tea available
9:30-10:30   Keynote Session (Speaker TBD)
10:45-11:45  Concurrent Session 1/Vendor Exhibits
12:00-12:30  OH-AHEAD Business Meeting
12:45-1:30   Lunch and Vendor Exhibits
1:45-2:45     Concurrent Session 2/Vendor Exhibits
3:00-4:00     Concurrent Session 3
Tentative Timeline
April 1 – Call for Proposals will be released for concurrent session presentations
May 15 – Concurrent session proposals will be due
August 1 – Registration will be available
2014 Conference THANK YOU!
Thanks for all who attended this year's conference! We will be sharing our conference statistics with you shortly, as well as feature power-points from the breakout sessions. Until then, please enjoy photos of the conference and check back with us soon!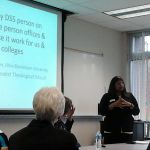 ---
2014 Fall Conference Powerpoints
OH-AHEAD presents
One Goal, Many Paths
Concurrent Session 1

OH-AHEAD Business Meeting
OHIO AHEAD 2014 (4).pptx
OHIO AHEAD 2014 (4).doc

From Documentation to Student Narrative and Professional Judgment
Enjie Hall, The Ohio State University
OH AHEAD From Documentation.pptx
OH AHEAD From Documentation Text Only.docx
Sample Advocacy Letter for Attendance.docx
Academic Coaching for Students with Disabilities
Laura Cherry-Akgerman, Ohio Dominican University

Academic Coaching.pptx
Academic Coaching.docx
Therapy VS. Service Animals: What's the difference and how does it affect students with psychiatric disabilities
Stephanie Volbrecht, The Ohio State University
Therapy vs Service Animal-O-AHEAD.pptx
Therapy vs Service Animal-O-AHEAD.docx

Concurrent Session 2
A Culture Shift to Full Membership
Enjie Hall, The Ohio State University

OH AHEAD A Culture Shift.pptx
OH AHEAD A Culture Shift Text Only.rtf
I'm the only DSS person on campus! One person offices & how we make it work for us and our colleges
Laura Cherry-Akgerman, Ohio Dominican University
Leslie Taylor, Methodist Theological School in Ohio
I'm the only DSS person on campus!.pptx
Im the only DSS person on campus!.docx

One University, Many Campuses
Julie DiBiasio, Amanda Wyant, Shannon Cowling, and Jacqueline Gee,
Kent State University
(PENDING)
Concurrent Session 3
Leadership, DSS Style: Visibility on Campus = Effectiveness in House
Jane Jarrow, Disability Access Information and Support
OH_AHEAD_2014.pptx
OH_AHEAD_2014.docx
VITAL: Supporting Student Veterans on Campus
Jessica Thiede, Veterans Administration Medical Center
Ohio-Ahead-Conference-VA.pptx
Ohio ahead conference VA.docx

Life Beyond High School: Transitioning to the Adult World – Things I Need to Know
Marcie Mendelsohn, Cincinnati Children's Hospital
(PENDING)